2023 Safety Grants Learning Day – A Celebration of Knowledge Sharing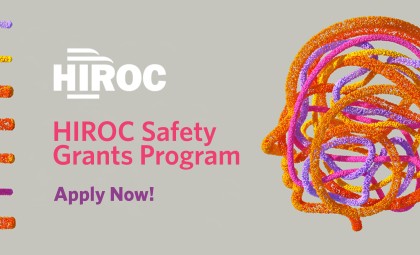 HIROC's 2023 Safety Grants Learning Day was a celebration of sharing experiences, offering Subscribers a glimpse of what's possible, as well as insights into this year's application cycle
 
"It's so incredible to hear about real, pragmatic approaches to solving our common problems." 
This feedback from HIROC's most recent Safety Grants Learning Day gets to the heart of our organization's ethos – supporting and partnering with Subscribers to create the safest healthcare system. At the end of the day, many of our healthcare Subscribers face the same challenges, and the Safety Grants program and Learning Day provide a way to celebrate and support Subscribers in sharing and scaling learnings to improve safety in their local contexts.
This year's Safety Grants Learning Day featured past grant recipients – a chance to learn more about their innovative safety projects through generous funding by The HIROC Foundation. Thank you to our speakers from Oak Valley Health, Newfoundland and Labrador Health Services, Sunnybrook Health Sciences Centre, Mount Sinai, and Alberta Health Services. 
For Pam Ingley at Oak Valley Health, their safety initiative in obstetrical care has truly been a labour of love. "This [the grant] has been very exciting, and a big win for us at Oak Valley Health. It enabled us to provide education to our staff, which we may not have been able to do otherwise."
The grant funding supported Oak Valley Health in creating an education and training program focused on improving care for patients undergoing unplanned surgical birth. Staff from a wide range of specialties (nurses, midwives, physicians, aides, quality and risk, patient experience) received training in situational awareness and psychological safety.
From Newfoundland and Labrador Health Services Central Zone, Mimie Carroll and Lorelei Kelly shared their innovative safety work on suicide prevention. Their team used grant funding to enhance suicide prevention kits and spread to all sites across the organization, and to deliver education and training.
"We wanted to normalize the conversation across all care settings," said Carroll, who added that when it comes to suicide risk and prevention, not everybody is comfortable with having those conversations.
Thank you to our Subscribers who registered and were incredibly engaged throughout the day's sessions.
"One thing is crystal clear, the HIROC Safety Grants Program is an opportunity for the healthcare community to learn from one another, but more importantly, to realize that HIROC is here to support in their safety journey, and the many possibilities of their safety ideas," said Catherine Gaulton, HIROC CEO.
As a reminder, recordings from HIROC's Safety Grants Learning Day are still available to those who registered in the Hopin platform. If you have questions about access, contact us at grants@hiroc.com. For a glimpse at the day, we have also made one session available below.
Applying for the 2023 Safety Grants Program
The event was also an opportunity to learn about the 2023 application cycle of the Safety Grants Program – which officially opened on July 17 and closes on September 13, 2023. 
This year HIROC is looking for applications on projects that relate to one of the following six topics:
Improving interprofessional care dynamics 
Implementing alternative models of care and care delivery 
Improving principles of diversity, equity, inclusion, and belonging
Improving safety through workflow redesign
Improving transitions of care
Building resilience
HIROC is accepting projects in the following safety areas:
Maternal neonatal harm
Patient deterioration
Death by suicide while under care
Other areas (e.g., cyber, risk governance, HHR, etc.)
"Since the Program's inception, we have awarded 45 grants totaling over $650,000. This is a testament to the commitment of The HIROC Foundation, HIROC's Board, and our Subscribers in improving safety and care across the systems." said Trevor Hall, Vice President, Healthcare Safety and Risk Management. "We cannot wait to see the breadth of project applications we receive this year."