Voices Lifting the Community with Cheryl Prescod and Joelleann Forbes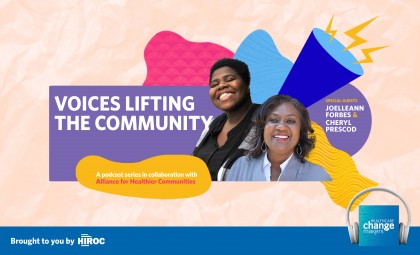 For this special series, Voices Lifting the Community, HIROC is partnering with the Alliance for Healthier Communities to highlight the work of several of the presenters at their online primary healthcare conference in June.
Show Summary
Today we're talking with Cheryl Prescod, Executive Director at Black Creek Community Health Centre and member of the Alliance Black Health Committee, and Joelleann Forbes, Mental Health Therapist at Women's Health in Women's Hands Community Health Centre. 
Early data of the COVID-19 crisis, broken down by race, revealed that COVID-19 disproportionately affected Black, racialized, and poor communities at much higher rates than the general population. This comes as no surprise to Cheryl and Joelleann who in their respective jobs and communities, see the consequences every day of racism and discrimination on Black women, and how it creates unequal access to treatment.
If there is an upside, the women are hopeful that the inequities and discrimination exposed by the pandemic lead to a permanent shift in attitudes – and activate the development of policies and programs tailored to Black communities. 
Mentioned in this Episode
Transcript
Imagine you could step inside the minds of Canada's healthcare leaders, glimpse their greatest fears, strongest drivers, and what makes them tick. Welcome to Healthcare Change Makers, a podcast where we talk to leaders about the joys and challenges of driving change and working with partners to create the safest healthcare system.
Ellen Gardner: Welcome to Voices Lifting the Community, a special series from HIROC. I'm Ellen Gardner with Philip De Souza. We're delighted to partner with the Alliance for Healthier Communities and highlight the work of several of their presenters at their recent conference. Today, we're speaking with Cheryl Prescod and Joelleann Forbes. Welcome to you both.
Cheryl Prescod: Thank you, Ellen.
Joelleann Forbes: Wonderful to be here.
Ellen Gardner: Great to have you. I'd like to hear from both of you on this, but maybe Cheryl, you can start. Just tell us a little bit about yourself, where you work and what you do.
Cheryl Prescod: So my name is Cheryl Prescod and I'm the Executive Director at Black Creek Community Health Centre. I have the privilege actually for the last 10 years of working for an inner community that I believe is one of the most diverse in Toronto, probably as well as in Canada. And it really has been eye-opening to experience what I do in my work. And it's just an amazing journey that I've been on.
Ellen Gardner: Thank you. Joelleann, what's your story?
Joelleann Forbes: Absolutely. So I'm a registered social worker and Mental Health Therapist at Women's Health in Women's Hands Community Health Centre. I'm a Canadian born second generation Jamaican. Our agency provides care to women from African, Caribbean, Black, Latin American, and South Asian communities. Through my work at Women's Health in Women's Hands, and in partnership with Canadian Centre for Victims of Torture and Sherbourne Health, I provide culturally adapted individual and group therapy to immigrants, refugees, and racialized communities using anti-oppressive, anti-racism and strength-based therapeutic frameworks.
Ellen Gardner: So Joelleann, you spoke at the conference about the structural inequalities experienced by Black women during the pandemic. And I know that in your practice, you've probably seen how deeply embedded those inequalities are. What kind of mental health issues have you seen during the pandemic and maybe what's changed in terms of your treatment approach when you're working with Black women now?
Joelleann Forbes: One of the big highlights that have been happening is the amplification of everything. So increased depression, anxiety, isolation, grief, a lot of different forms of grief. One of the big ones has been disenfranchised grief, and that's grief that's not acknowledged by society. So this can a loss of connection, loss of stability, loss of certainty. And I'm finding that Black women at this time, they're managing so many things: home, work, their own lives. It's always prioritizing and trying to hold the community together during this very challenging, complex, confusing time.
Ellen Gardner: So in a sense is, a lot of what you're providing grief counselling? Would you say that's the focus of some of your care?
Joelleann Forbes: I would say grief counselling, yes. But I feel like it's starting where the client is at. I feel that when I have clients that come in and they share experiences of racism, racial trauma, feeling just a sense of oppression, feeling a sense of heaviness, navigating the community, it's really starting where the client's at. So, one minute we could talk about grief. Grief work. But as we're navigating those conversations, we're also talking about, okay, how can we care for ourselves or try to prioritize the self during this time.
Ellen Gardner: Cheryl, you also presented at the Alliance conference and painted a sobering picture of the Black experience during the pandemic. You talked more specifically about access to care and anti-Black racism. From the perspective of your community around Black Creek, how did you see that play out?
Cheryl Prescod: At the beginning of the pandemic, those of us that work in the community in healthcare, we knew that the community would be hard hit simply because of the risk factors for COVID transmission. For example, the high numbers of essential workers living in the community. Some of the precarious employment conditions, for example, folks who actually work in jobs without paid sick days. The housing conditions where people could not self-isolate to slow or stop the transmission. In a way, some communities like that in Black Creek are segregated, I would say. And so we were not surprised that there would be a high positivity rate. And that is in fact what we saw. When the city started collecting data around positivity rates, we saw the high rates in these communities and they were labeled as hotspots.
So, very early in the pandemic, the course of the pandemic, we knew we had to do something about ensuring that members of the community could access the care, the necessary care, especially during a time where healthcare, we had to all pivot, I guess, in terms of even the care that was provided. We had to offer more virtual services, so by video or phones. And we knew that for folks who had maybe minimal access to care in the first place due to their race, due to their economic situation, they would be even more affected. So for example, a lot of folks did not have access to internet or a device even to access virtual care. So for us, care is not only about having access to seeing a healthcare provider, but enabling folks to have the tools to access that care.
Ellen Gardner: It must've been difficult for both of you being really in the middle of this crisis and trying to support your clients and just being there for them. And at the same time, trying to make sure they could access the resources in view of the fact that there are a lot of barriers. So had you ever, and maybe Joelleann, you can answer this first is, had you ever experienced a crisis like this before?
Joelleann Forbes: No, I could say I never have experienced a crisis like this before. And I feel like I could say, I think many of us, most of us, have not experienced this before, because the narrative kept on changing. I felt at the beginning of the pandemic, it was this narrative of we're all in the same boat, for example. But as the pandemic progressed, we didn't have to wait long to see as a mental health therapist witnessing how everyone has different boats and everyone has different tools of how they're coping. Some people don't have a boat at all. They might only have a piece of wood floating in the ocean. And so the needs of the community definitely varies, but I feel that the care that really was and is needed for Black communities needs to be more targeted and needs to be more like witnessing of folks strengths, as well as the losses that have been occurring.
When it comes to a crisis like this, and I'm looking at 2020 as an isolated year, for example, it was a pandemic, but also the number of Black lives that were lost last year had a tremendous impact on both the communities and healthcare workers and people serving the communities. So I felt like there were multiple pandemics going on at once.
Ellen Gardner: Cheryl, what do you feel about that? And I think in terms of having been through a crisis like this, was this your first experience of something on this scale?
Cheryl Prescod: In terms of a pandemic, a global pandemic, because specifically in the community that we serve, we see people from everywhere, every corner of the world. So one of the things that I think we don't think about is that many people's lives were touched because of separation, even from family members. We serve a community with a high number of newcomers. So they've recently immigrated to the country. So the isolation that they felt when not knowing what was happening with their loved ones in different parts of the world. And actually even experiencing this pandemic, the isolation was one. We were all isolated in some form or fashion, however folks who were here alone in a country, a new country, and having to deal with settlement issues and perhaps not even knowing the language, it was really that double or triple pandemic for them because they were experiencing so much, there's so much loss.
And as we move through it, we really do have to think differently about our healthcare and how we deliver health care. As community health centres, we really focus on the social determinants of health. So we know and we recognize these challenges that our clients are facing.
Ellen Gardner: I think one thing the pandemic did, like you talk about it, it did shine a light on the inequities of treatment and access for certain groups within our population. And I think it did lead to more awareness amongst the general population. So what was your reaction when you saw that people are starting to notice these inequities and that maybe that things are going to start to change? Cheryl, did you see that?
Cheryl Prescod: Some leadership from the community health centres, again, were some of the first to really ask, both the public health unit in Toronto, as well as the province to start collecting data so that we can see any kind of pattern of differential impact of the pandemic on whether it was different racial groups or people from even genders, whether women or men were more or less likely to be impacted by the pandemic. And what we saw was not surprising to us. We knew that women who were holding many of the essential jobs had a higher positivity rate of COVID. We saw that racialized communities, Black communities, the Latin community had higher rates than their share of the population. So again, we were not surprised by what we saw, but it was evidence that we needed to target the interventions specifically to some of these populations to ensure that they had an adequate level of care and interventions needed to support them and to care for them in a relevant and appropriate a manner as possible.
Joelleann Forbes: I feel that the pandemic, and as Cheryl mentioned, has really shown all the disparities. How many different populations are being more impacted than others. And this is why the collection of this race-based data is so important. So this experience, the pain, the hurt, the inequities, have to lead to a shift. It's not that when COVID is over then we go back to this phase of life where this is all hidden or very much not a priority. I feel that all this data that has been collected, and when I mean data, I also mean the narratives and stories that our community members are sharing cannot just disappear. It has to inform. And I really feel like this will definitely inform better policies in the future, how different mental health programs are being delivered in a way that is tailored and adapted to Black communities.
Ellen Gardner: I'm struck by how quickly as a community, you probably had to respond to things like vaccine hesitancy. That you needed to just pull different stakeholders together and say, "We really have to build awareness and education." Was that a good experience? Just having Black physicians, Black healthcare providers, Black professionals delivering the care, has that made a big difference?
Cheryl Prescod: As someone from the Black community, I know I have lived experience of seeking and receiving care both from Black professionals, as well as not. And I know how important it is to me personally, to my family members to get care from those that understand them. So, one of the things I know that we've done as a lead agency is we've participated with the Black Physicians Association of Ontario on really having vaccine initiatives for the Black population. The community that we serve is predominantly Black. I'm just coming from an event where we did a vaccination drive at a church, with a largely Black congregation, and we deliberately ensure that we have Black vaccinators. So we have physicians and nurses that represent the community. And we hear from folks, these stories tell us that people want to see themselves represented in the healthcare they're receiving. So even in the vaccination drive, we have to understand that this is an important piece, and it will increase the trust in our system. 
Early on in the pandemic, and then even as vaccinations were approved, we did talk a lot about vaccine hesitancy in the Black community, but we worked with the community around that. And we worked with the Black physicians and Black healthcare providers and Black professionals to do town halls and to discuss the fears and the distrust and the mistrust in the system with members of their own community. So now we've actually seen a shift and we see more and more people coming to get vaccinated from the Black community, especially when we have these targeted events and we invite folks to feel comfortable, and we call it in a culturally safe and relevant way. I think that's what we have to do for many communities, but I've seen it myself and we have the data to show that this works.
Ellen Gardner: So I'm going to ask both of you to put your superpower hats on here and just think about just if you could nail down one or two things that you think, if we could do them tomorrow, what would help lead to change?
Joelleann Forbes: The first thing that popped into my head as an important reminder when doing this type of advocacy and empowerment work, which is, it's always important to recognize that the Black identity is not a monolith. So what this means and what I mean here is that the experiences of the Black population should not be reduced into a single narrative, because if it gets reduced into a single narrative, it could be even further oppressive and ignore those very important nuances and the complex identities of each culture within the Black identity. Within the clinical context, instead of viewing white supremacy or Eurocentric models of care as the ideal.
Or in other words, instead of viewing this one size fits all model of care as the ideal, we should move towards exploring how a client's social, cultural context shapes their perception of pain and healing from the very beginning. So what I'm speaking to is really critically analyzing, how are we developing pathways to care? How are we developing pathways to mental health care? Are we considering these really important factors, social cultural factors from the initial assessment or intake? So these are sort of my superpower objectives as calls to action.
Ellen Gardner: That's great, Joelleann. Cheryl, what would be your superpower approach to changing the world?
Cheryl Prescod: So I'll answer that question by just reflecting on the past week and the pain that many of us felt. Last week, we started the week commemorating some brutality in the Black community, the anniversary of the George Floyd murder. Then we heard about the remains of the Indigenous children that were found in BC. So if I had some superpowers, I really would like us all to join together in really dismantling and disrupting the racism and the violence, especially anti-Indigenous and anti-Black racism that has led to that violence. It's not something that's healthy for any of us, and we have to work together. It's not enough for us to say, "I'm not a racist." We have to all be equally invested in being anti-racist. And that is an actionable thing.
Cheryl Prescod: It's not only about making statements and saying, "We're sorry," and apologizing. It's about working together so that we can learn not to have these atrocities happen again in the world, in our country, in our city, to individuals whose lives have been lost because of the violence of racism. So for me, it really is if I had a superpower, I would really want to work together with my community of healthcare providers, with our clients, our communities, to ensure that we all move towards a place of empathy so that we can provide the best and most compassionate care to everyone, because everyone's life is so important.
Philip De Souza: You know, other community health centres, and pretty much anybody in healthcare is listening to this episode. So if there's one thing you could offer to them that would help them start a dialogue. So if it was anything that any other folks in community health centres or in general in healthcare, one thing you'd recommend they do, what would that be?
Cheryl Prescod: I think especially during this time, reaching out and listening to your community is so crucial. This is something that a lot of community health centres do. We meet people where they're at. But in particular for the COVID pandemic, we have worked very, very closely with our community members to help us understand what was going on in their corner of the community. So for example, within certain buildings or housing complexes, we would really reach out to community members, and we call them community ambassadors. And they worked hand in hand with us to identify where we needed to do testing sites or vaccination outreach. And I think that worked so well. And I see again, what I said about the hope and seeing change happen. I'm seeing so much capacity being built in the community that our community is so much our strength, and we have to work with them hand in hand.
Joelleann Forbes: I echo everything that Cheryl shared. I feel like at Women's Health in Women's Hands Community Health Centre within the context of our mental health therapy program, our mental health program, we really had to revamp so many pieces of how we connect with clients, how we engage in dialogue via these virtual means, knowing that this will create a lot of barriers. However, I feel like within the context of our agency, we really were mindful of being as flexible as possible. So for example, if clients really needed a group sort of intervention, we tried really hard to mobilize together as a team and develop workshops that were very much needed in the community. Or we would provide multiple ways to do virtual. So either by phone or video, trying to make the client feel that they are not confined to this one way of accessing care. We know how community members are being impacted. This is being as proactive as possible to develop and nourish these meaningful connections.
Ellen Gardner: I wanted to ask where you both draw your motivation. How do you stay inspired? Is it through your clients or is it through friends? Where do you turn for inspiration during a difficult time like this?
Joelleann Forbes: One of the things that really has been super instrumental for me has been hope. Even if the hope waivers from time to time, it's been so important to reflect on this anchor of hope. In addition to hope, my friends, especially friends and family have been super critical for my own well-being throughout this past year, year and a half. And lastly, and most importantly as well, are the client voices, the community voices. I view my friends, family, colleagues as part of my community. And I feel that my definition of community is really broad. One that is very inclusive. So most definitely this is where I draw my strength and anchors from.
Cheryl Prescod: I think I draw my inspiration from just seeing the changes that are happening. They may not be large, but I do see some changes happening. I grew up in a very large family where my mother sort of taught us about caring for each other and not only our own family members, but the concept of it takes a village is something that was just ingrained in me. So, working in a community is just something that's very intuitive and natural.
And when I see the progress we've made, however small, however large, it gives me hope. When I see some of the younger professionals coming after me, sort of making a difference and being critical and being sensitive in their thinking, it helps. I feel that sometimes I think of myself as an elder now, because many of the folks that I have worked with me, they're younger and they're just starting their careers. And it's important that I show the way as well. I help as much as I can to encourage them and pull them along. So again, it's 'each one teach one' in my thinking. Just by us having this conversation I think means that we're making some progress.
Ellen Gardner: Really Cheryl and Joelleann, it's such a pleasure talking to you, and as Philip said, you inspire us. Keep doing what you're doing, and thank you so much for a great conversation.
Joelleann Forbes: Thank you.
Cheryl Prescod: Thank you.
Ellen Gardner: This has been Voices Lifting the Community, a special series produced by HIROC and the Alliance for Healthier Communities. Today our guests were Cheryl Prescod, Executive Director at Black Creek Community Health Centre and a member of the Alliance Black Health Committee. And Joelleann Forbes, Mental Health Therapist at Women's Health in Women's Hands Community Health Centre. Thank you for listening.
Thank you for listening. You can hear more episodes of Healthcare Change Makers on our website HIROC.com and on your favourite podcasting apps. If you like what you hear, please rate us or post a review. Healthcare Change Makers is recorded by HIROC's Communications and Marketing team and produced by Podfly Productions. Follow us on Twitter at @hirocgroup or email us at communications@hiroc.com. We'd love to hear from you.