Introducing HIROC's Risk Management Residency Program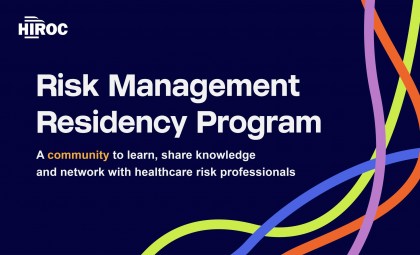 Whether you are new to a risk role or wish to increase your knowledge, capacity, and confidence – HIROC has a program for you.
HIROC is excited to launch a new pan-Canadian Risk Residency Program that was co-designed by healthcare risk and safety specialists. 
We are offering a program that healthcare risk managers say would have been a valuable resource for them early in their careers. 
As a participant you can expect to learn from Risk Management, Patient Safety, Human Factors, Insurance, Claims and Legal experts from across Canada on a variety of applied topics. 
We asked Wendy Hooper, Senior Healthcare Risk Management Specialist at HIROC how this would have helped her when she first started out. 
"Knowing I was not alone," she said. 
This program will provide an opportunity to learn from the shared experiences of others, will bring together a knowledgeable community of experts and will enable building a network of peers from across Canada.  
This risk management residency program, offered at no cost to HIROC Subscribers, will apply blended learning (online educational materials and opportunities for interaction) accompanied by mentorship and coaching. 
Application deadline: Friday, July 23 at 5 p.m. ET
A Chance to Connect, Build Confidence
Wendy says, "not only will you enhance your risk management knowledge—but you will be part of a community of Risk Managers that you will have for life".
The program will allow you to connect and expand your peer risk management network. 
"You are going to better understand and apply risk management – but ultimately you are going to be gaining more knowledge for your own development, as well as your confidence and capacity to support your organization," Wendy added.
Arlene Kraft, Director of Healthcare Safety and Risk Management, is equally excited. 
"In HIROC's quest for turning the corner on patient safety, the Risk Management Residency Program provides the opportunity to develop Subscriber Risk Managers to enhance front-line impact by increasing their knowledge, capacity, and confidence," Arlene said. 
"They will learn from experts in a number of fields as well as glean one-on-one mentoring from experienced Subscriber Risk Managers," she added. 
Call for Applications
The Risk Management Residency Program is an eight-month education opportunity that is focused on sharing experiences and creating connections. This first year will be composed of a smaller group of risk managers to ensure rich understandings and conversations:
Two-hour sessions every two weeks
Variety of educational formats such as panel discussions and simulation exercises
Informal drop-in session each month
Curriculum examples include: 
Risk Management essentials
Patient Safety
Human Factors
Privacy and cybersecurity
Incident investigations
Insurance-related topics e.g., liability, indemnity, etc.
Claims Management
Legal-related topics e.g., Consent and Capacity, Mental Health Act, etc.
Disclosures
Crisis Management-Emergency Preparedness
Application deadline: Friday, July 23 at 5 p.m. ET
Should you have any questions about the program, please contact riskmanagement@hiroc.com.
By Julian Abraham, Communications and Marketing Associate, HIROC