Get to Know HIROC's Newest Board Members: Martine Bouchard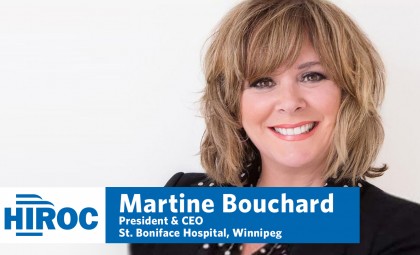 Over the past few weeks we've introduced you to the newest members of HIROC's Board of Directors. We're delighted to have them join and look forward to working more closely with each of them. 
HIROC's board is comprised of persons who serve on the executive team or boards of Subscriber organizations across Canada. This diverse membership allows us to hear the voices from our subscribership and provides the opportunity to see how HIROC can further live its vision and deliver on strategic priorities with a different lens. Together with our board, we are focused on the goal of turning the corner on patient safety.
It became evident throughout our interviews that each of these leaders puts safety, collaboration, and trust (trusting the process, fellow board members, leadership, and their entire team) at the centre of their work. 
Today I present the last interview in this series – my conversation with Martine Bouchard, President and Chief Executive Officer at St. Boniface Hospital in Winnipeg, Manitoba.
When you have a moment, check out our other interviews with Marie-Josée Martel (Hôpital Montfort), Dr. David Pichora (Kingston Health Sciences Centre), Dr. Verna Yiu (Alberta Health Services), Lori Marshall (Chatham-Kent Health Alliance), and Michael Lam (Alberta Health Services).
---
Philip De Souza: Martine, what does good governance and being an active board member mean to you?
Martine Bouchard: So I had to reflect on this. To me, being a good board member is ensuring good governance of an organization. For me personally, it's ensuring that I participate actively in the discussions, that I'm ready for board meetings, and that I come in with an attitude of openness. It's also about coming in with an attitude of transparency. When I do not understand something, or when I feel strongly about a point, I express this. Additionally, you need to be open to change and innovation.
It's also important to understand that there are a number of ethical principles that people need to be mindful of when they join a board. 
I always like to learn stuff, especially when it's a subject that I'm not too familiar with. Even if it's a subject that I feel somewhat familiar with, there's always room to learn. I feel that this is bi-directional; I learn from people and hopefully people get to learn from me.
Philip: You're absolutely right, learning is so key because that's how we'll continue to grow personally – I'm glad you said that. So, what's one thing people would be surprised to learn about St. Boniface Hospital?
Martine: Well, there are lots of things that some may find surprising. Firstly, St. Boniface is a bilingual organization. So lots of people are speaking French and we have the opportunity to heal and accompany people that are French speaking and all kinds of other languages. St. Boniface has a designated bilingual status. 
Also, the fact that St. Boniface originated from the Grey Nuns, who actually came from Montreal 150 years ago by canoe. They didn't take a plane [says Martine with a smile], and I too am from Montreal. 
It's really important for us to go back to the roots and to history, to really understand where we want to go. And so, the Grey Nuns had and still have fantastic ethical principles and all kinds of values that are near and dear to me – such as humility and compassion, to name a few. As a matter of fact, we recently did our strategic plan and there are lots of values that we said we cannot remove from the history of St. Boniface – compassion being one of them.
    
Philip: What's one thing you learned from your parents that you use today?
Martine: I have four children and sometimes kids in general (including me) say, "I hope I'll never be like this…" But with age you realize that you're born with the value system of your family. And there's always something that you do take from your parents. My father was an entrepreneur and he had this entrepreneurial thinking where if you don't like something, or if you want to do something, you take care of it. You involve yourself, learn from it, and either you change or you try your best to do that. And I've taken that lesson from my father and live by it now. 
And from my mom, the message of "You can do anything you want" has stayed with me. So basically, if you put your mind to it, you can do it. There are different strategies as to how to go about this, and sometimes you will not be able to, but it's important to at the very least attempt it.
Philip: If you could get up and go on vacation right this moment – on a plane, on a boat, or in a car – where would you go and why?
Martine: Oh wow! I'd go to so many places. Last year for my wedding anniversary, we went to France and we really, really enjoyed it – so I'd go there. 
The second part of my answer revolves around travels with my children. I've told each of my children that when they reach 18-years old, I will take them on a trip to a location that they get to decide on. A few weeks ago, my second son said, "How about that trip to Greece?" And because of current conditions, I said, "Well, can you think of somewhere closer?" 
But as long as I can spend some quality time with them, eat some great food and take in our surroundings, I'm happy… I really don't care where I am.
Philip: What is the most important word in your work life? I know it's a difficult question…
Martine: I would say integrity. I raised my children by telling them all about the Greek goddess Themis – balance of justice. Themis is a goddess who has two weighing scales on each side of her hands. And every time they would make a decision, I would say, "Have you weighed out the benefits?" I try to bring them up with a sense of integrity and a focus on doing what is good for themselves, but also for others.
Philip: Thank you so much Martine. Welcome to the HIROC Board of Directors! 
Martine was interviewed by Philip De Souza, Director, Communications & Marketing, HIROC. 
Learn more about the HIROC Board of Directors and its members.