Toronto, ON
 Each year, the minds of hundreds of healthcare and insurance professionals are brought together at HIROC's annual conference to share knowledge and lead critical discussions on improving patient safety.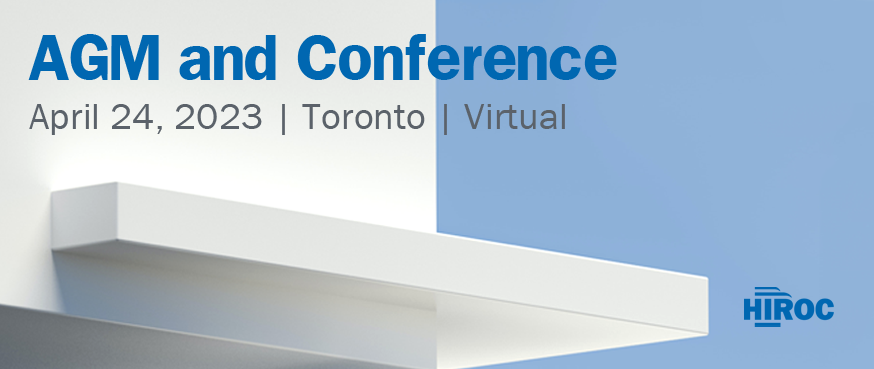 2023 Annual General Meeting and Conference
April 24, 2023 – Toronto Congress Centre (in-person and virtual registration options)
Thank you to all of our Subscribers who attended on April 24. Keep an eye on your inbox for a short feedback survey.
If you have a question about this event, please email communications@hiroc.com.
Agenda
9:30 AM - 10:00 AM ET: Registration
10:00 - 11:15 AM ET: HIROC & HML Annual General Meeting (exclusively for HIROC Subscribers)
11:15 AM - 12:00 PM ET: Leadership Impact: HHR Crisis

Steve Ashton (VP, People and Organization Development, IWK Health Centre)
Cameron Love (President & CEO, The Ottawa Hospital)
Mike Nader (President & CEO, Winnipeg Regional Health Authority)
Moderated by Catherine Gaulton (CEO, HIROC)

12:00 - 1:00 PM ET: Lunch & Networking
1:00 PM - 1:45 PM ET: Pan-Canadian Trends on Wrongful Dismissal Claims Post-Pandemic 

Frank Cesario (Partner, Hicks Morley)
Shivani Chopra (Partner, Hicks Morley)
Jeffrey Goodman (Partner, Mathews Dinsdale)
Moderated by Gareth Lewis (Vice President, Claims, HIROC) 

1:45 PM - 2:30 PM ET: Risk Forum

Alice Betancourt (Director, Legal and Policy, Ontario Hospital Association)
Cindy Clarke (Partner, National Group Head, Clients, Sectors and New Services, BLG)
Catherine Gaulton (CEO, HIROC)
Lorinda Lee (Chief Human Resources Officer, Oak Valley Health)
Moderated by Trevor Hall (Vice President, Healthcare Safety and Risk Management, HIROC)